Residential Security Systems
STAY IN CONTROL WITH OUR INTERACTIVE SOLUTIONS
Our interactive security system solutions are designed to allow our customers to stay in control of their homes on the go. Make sure that your home is safe, secure and comfortable with our interactive security systems. With the help of real-time alerts, video viewing, GPS tracking and mobile controls – you can stay connected to your home and your family 24/7!
MOBILE SECURITY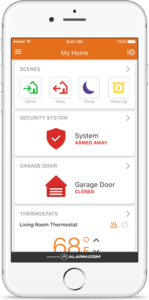 Quickly arm, disarm or check the status of your security system – no matter where you are – with mobile security access from your smartphone. Intuitive prompts and simple graphics make the mobile operation of your security system a snap!
GPS TRACKING
Keep a protective eye on your teenage drivers and watch over your assets anytime with our GPS tracking services. Never worry about where your vehicle is with 24/7, easy smartphone enabled access. Enjoy real-time updates so that you can track teenage drivers, recover missing vehicles and more! You can even set up email alerts to notify you when your vehicle exceeds speed limits or goes outside of any predetermined geographic boundaries.
REAL-TIME ALERTS
Set up your security system to work with your busy schedule. Receive email alerts, text messages or video alerts to track events at home in real-time. Set up your system to notify you of specific alert types or schedule alerts around your time away from home.
LIVE VIDEO CAPABILITY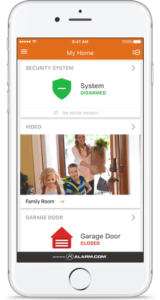 Log on and check in on your home anytime and anywhere. View live video footage of your home while you're away to monitor deliveries, your kids, pets, elderly relatives, guests and more.
REMOTE HOME CONTROL SERVICES
Take control in more ways than one with easy home automation services that work with your security system. Control your thermostat, lights, locks and more – all from the palm of your hand with your smartphone.
MANAGING YOUR SECURITY CAN'T GET ANY EASIER!  ARE YOU READY TO SAVE AND BE BETTER PROTECTED?
GET PROTECTED WITH OUR CAMERA SYSTEMS:
With our high-quality camera surveillance systems, you can protect your home against theft, vandalism and other potential dangers. You can also keep an eye on your family and pets while you're away and make sure every important delivery arrives safely! Customize your camera systems to suit your needs with web-monitoring, activity notifications and more.
Call Today – 317-542-7087
GPS TRACKING AND MONITORING SERVICE:
Utilize the ability to keep an eye on your vehicle—no matter where you are—with auto GPS Tracking. Whether you're worried about the kids using the car or want to make sure it stays in the driveway overnight, with the power of GPS technology you can make sure your vehicle is always safe and secure. Get email notifications, 60-day history reports, online support and more.
Call Today – 317-542-7087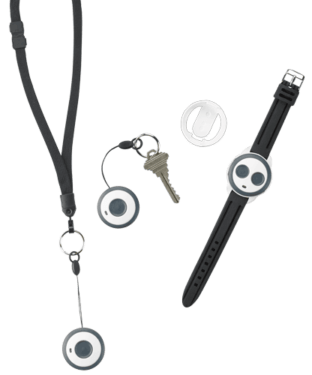 FEEL AT EASE WITH OUR SAFETY PENDANTS:
Have a family member with special medical needs? Give yourself and your loved one's peace of mind with our safety pendants. Compact, water-resistant and versatile – these pendants can be worn on the wrist, belt or keychain style and allow you to summon emergency help with the press of a button.
Call Today – 317-542-7087

Unlock your door from the comfort of your office—anytime! You'll never have to worry about the kids getting locked out or whether or not your guests can get inside easily with easy security access from your smartphone or PC.Cameras
Set your thermostat to automatically adjust every time your alarm system is armed or disarmed for complete comfort control. Avoid paying for heating and cooling when you're not at home! Configure your thermostat to automatically adjust each time that your security system is armed or disarmed.

Keep an eye on what goes on when you're not home by monitoring your kids and pets with cameras that can be viewed from your tablet, smartphone, TV, touch screens and PC.
Manage your indoor and outdoor lighting to work with your security system. Set lights to automatically turn on or off when your security system is armed or disarmed and program lighting scenes to fit your household needs.

The window shades around your home provide privacy, ambiance and the right touch of comfortable home decor. But they can also be used to manage your energy consumption. Automatically lower shades to block out the sun and lower your cooling costs and raise them to help with your heating while you're away.
Make your home a more comfortable place by controlling thermostats, lighting, shades and more – all from your smartphone or PC. When you have control over your energy use at home, you'll be able to lower your utility costs and go green!
PROTECT YOUR FURRY FRIENDS:
Thanks to the motion sensor technology used in our Honeywell security systems, you can rest easy knowing that all pets (up to 100 lbs.) can freely move around the home without tripping your alarm. Additionally, our security solutions help keep your pet safe and comfortable with the ability to alert you in the event of extreme temperatures, carbon monoxide emergencies, smoke or flooding. You can also view live video of your furry friends any time of the day and receive text, video and email alerts while you're away.
Call Today – 317-542-7087
Smart Home Security System Pricing Packages